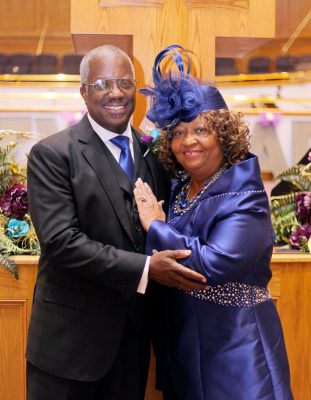 Rev. Delbert Allen Mack, Sr. was born in Hearne, Texas, to Rev. Oliver W. Mack, Sr. and Sis. Vina Ella Mack. He has one brother, Rev. Oliver Deon, and four sisters, Vineta, Naomi, Roslyn, and Mabris. He is the grandson of the late Bro. Arthur Mack and Rev. and Sis. R.M. Blocker.
By the age of six, Pastor Mack was a member of his father's church. After being inspired by a speech entitled "Be Real", at a youth convention in Houston, the young nine-year-old decided to accept Jesus as his Savior. Realizing his call to preach at twelve, and assisted by the spiritual leadership of his father, he began speaking at churches.
Pastor Mack began his studies at the University of Houston and Houston Baptist University where he studied Sociology and Christianity. Later he attended Lamar University where he completed his Bachelor's degree in Fine Arts. Pastor Mack has also received certifications in Theology from the Interdenominational Theological Center (an extension of Moorehouse College in Atlanta, GA) and from the International Institute of Faith Based Counseling.
At nineteen, Pastor Mack began preaching in Hearne, and six months later accepted the pastorship at Mt. Tabor Baptist Church in Gause, Texas. He served as pastor from October 1978 to February 1981. In March of 1981, he relocated to Houston, to become the Assistant Pastor of New Faith Baptist Church, where he served for eight years.
While attending New Faith's Pastor's Banquet, Pastor Mack was blessed by meeting Alpha Denise Materre, whom he later exchanged vows of holy matrimony. To this union they were blessed with two children, Delbert Allen, Jr. and Alyncia Denise. Pastor and Sis. Mack continues to serve as role models for their children. He is the proud grandfather of Farah and Josiah Nelson.
Pastor Mack served as the Pastor of Fifth Ward Missionary Baptist Church of Houston, Texas from September 3, 1989, until he was called to Cathedral of Faith Baptist Church in January of 1994.
In the Fall of 2016, Pastor Mack started yet another journey. He began his journey toward receiving a Doctor of Ministry degree from Memphis Theological Seminary. After matriculating through three years of studies, Pastor Mack successfully received his DMin on April 30, 2020.